Alice was a patient at Bartonville Insane Asylum. We don't know exactly when she was there or when she died. However, she was there for the wrong reasons. Alice had epilepsy, or seizures. In the early 1900's, people didn't understand what seizures were, let alone how to treat them. So, it was assumed that when they were having a seizure, they were actually having fits of insanity. She was placed in Bartonville, given ECT (electric shock therapy), and heavily medicated. She passed from an overdose of an injected medication after having a seizure. When she died, she was at peace and thankful for being able to leave the prison of her physical body.
So how do we know this information? A respected medium and friend found out I was going to the Paranormal Kicks Cancer fundraiser at BIA on September 15, 2012. She was contacted by this very persistant spirit. The reason - She wanted to give a message to the orderly who gave her that last injection. He is not responsible and should forgive himself. The medium saw the grave stone and told me where it would be located. It would be broken and the numbers 57 would be showing, but should have had more numbers. I should use my spirit box to communicate with her.
So how do we know this to be true? She told me the information and I sought out to get the proof. I believe I made contact, found her grave stone, spoke to her through the spirit box, got the orderly's name, and promised Alice I would get her message out there.
The last EVP asks me how I will do this. Well, I hope you will help me. Read the story and pass it on through social media. Maybe, through some strange coincidence, it will make it to somebody who knows Mike, the orderly, and the message will be delivered.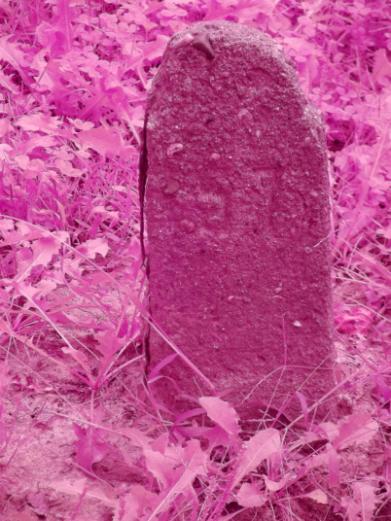 This is Alice's gravestone. I found it in a small graveyard just east of the Polack Building on the grounds of BIA. It was not in the main larger cemetary as I would have assumed and went to first. I stumbled upon this site while walking around on a break in between speakers.
*
*
*
*
*
*
*
*
*
*
Greetings from a female spirit, presumably Alice.
When I started using the spirit box, this was the response I got.
I was asking about her message and this was one of the responses I got. There were many voices coming through.
Two voices confirming the orderly's name.
Unsure what this response means.
Bathroom comes up again. Sounds like a bad place, just like in prisons?
I was performing this spirit box session in the larger cemetary. I had found a place where a 57 grave stone was completely missing.
After turning the box off, and making my closing remarks, someone asked "How does that work?"